Secure Access to Sensitive Healthcare Data
DynaPass is Compliant with New Security Standards Defined by HIPAA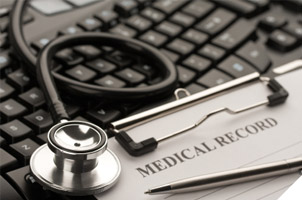 Digital technology has become integral to every industry and healthcare is no exception. As advance new systems are being developed to collect, store and centralize sensitive patient data, more secure methods of accessing and sharing patient information is required to safeguard these electronic health and medical records (EMRs) The Health Insurance Portability Accountability Act (HIPAA) was enacted in 1996 to set standards on how patient data, which may include doctor notes, medical test results and billing, may be collected, shared and protected. With the shift towards electronic medical records, new standards have been adopted to ensure the privacy and security of information in an electronic environment.
Healthcare institutions are now required by law to be compliant with the standards set forth by HIPAA or face civil or criminal penalties. The HIPAA Security Rule directed at electronic medical records, requries health care institutions to implement proper procedures and security when storing, accessing and sharing patient information. Three safeguards are required for compliance: administrative, physical, and technical. With the increase in use of electronic protected health information (e-PHI), we believe the need to protect patient data from unauthorized access has become more important than ever.
DynaPass™ Security Compliance
DynaPass™ can help healthcare institutions become compliant with HIPAA security standards by providing the additional layer of security mandated by HIPAA. DynaPass™ provides a strong two-factor authentication solution that can be easily integrated into a healthcare organization's network infrastructure increasing of its confidential patient data.
DynaPass™ is a patented (U.S. Patent #6,993,658) zero-footprint technology solution that offers easy integration with existing systems .
Remote Access VPNs
Corporate E-Mail
Citrix Web Interface
Terminal Services
Single Sign-On Systems (coming soon)
RADIUS Applications
Intranet Sites